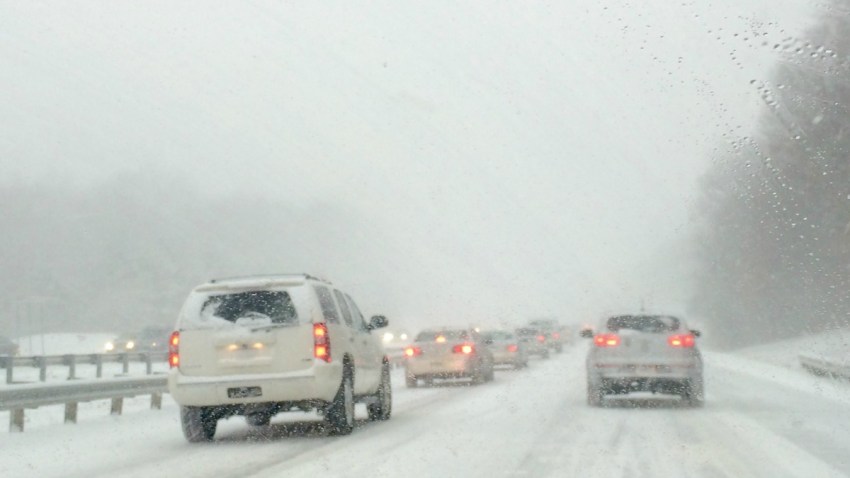 A band of heavy snow started coming through Connecticut just in time to cause problems during the morning commute and several schools either delayed the start of classes or decided not to open at all today.
The snow caused whiteout conditions in parts of the state, making traffic very slow on Interstates 84 and 91, as well as Routes 2 and 291.
The snow has started clearing in western Connecticut, but there are problems on the roads in NEW London County.
A car hit a police on Interstate 95 South near exit 86. There is also a a two-car crash in the area of exits 89 and 88.
There is also a two-car crash on Route 2 in North Stonington right off the I-95 exit 92 offramp.
There is also a crash on on I-84 East in Union. Police said a car went into the woods near exit 73.
Earlier today, injuries were reported in a crash on Route 9 North in Cromwell at exit 19 and road conditions prompted the state Department of Motor Vehicles to cancel all road tests until 10 a.m.
This is the second day in a row that weather has affected schools. While schools were delayed on Thursday because of cold weather, several districts that planned to open late on Friday because of snow later decided not to open at all for the day.
As of 10 a.m. there were more than 170 closings and delays. Check the list here.
Crashes were also reported on Route 7 in Ridgefield, Route 8 in Waterbury, on Interstate 91 North in Middletown and the travel time from New Haven to the George Washington Bridge in New York was around five hours.
The afternoon will be sunny. Skies clear later, but cold temperatures will linger with highs in the low- to mid-20s on Saturday.
Is it snowing where you are? Send photos to us at shareit@nbcconnecticut.com.
If you do not get our school closing alerts, sign up here.