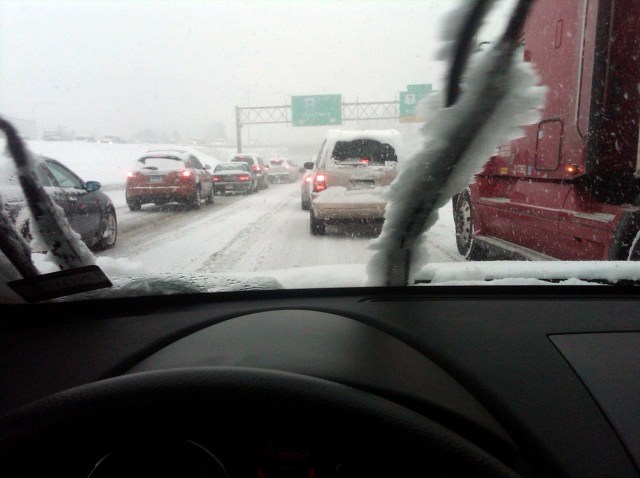 What was predicted to be a few inches of snow turned into as much as a foot in some parts of Connecticut Friday.
Heavy snow fell in Fairfield County from early afternoon into the evening, and then moved north and east after dark.
Travel on I-91 north out of New Haven was at a near-standstill for most of the evening commute. Some drivers reported being stuck on the highway for more than two hours because of slippery conditions and accidents.
It was more of the same along I-84 in Danbury where Mayor Mark Boughton tweeted that drivers were actually abandoning their cars and walking off exit ramps. Danbury declared a level one snow emergency at 5 p.m.
State Police declared I-84 impassable as of 9:30 p.m. Friday. Part of the problem was due to a tractor-trailer crash that shut down the highway just across the New York border.
The Department of Transportation used snowmobiles to help State Police reach stranded motorists along the highway. Local fire departments also used four-wheel drive vehicles to check on the well-being of drivers stuck for hours.
I-95 in Stratford was a mess after two tractor-trailers crashed into a pair of fire trucks that had responded to an earlier accident in the southbound lanes near exit 31. There were no injuries in either of the accidents.
Fairfield police responded to more than one dozen crashes on Friday afternoon, including one crash involving a police car on Brookside Drive.
A minibus flipped on its side on the southbound side of Route 15 in Stamford on Friday morning. The driver was the only person on the minibus when it flipped, state police said. He was transported to a local hospital to be treated for minor injuries.
Police closed the road temporarily and cars are getting stuck, according to NBC Connecticut staff at the scene. As snow piles up, cars are getting stuck, which is causing more traffic problems.
We want your photos, click here and send them our way.