Today's snow is behaving pretty much as expected. I did think the heavier snow this afternoon would be a bit more widespread but it has been relatively patchy. There have been occasionaly reports of heavy snow but the snow by and large has been of the light to moderate variety.
Not surprisingly, roads have been a mess with accidents all over the place. Cold pavement temperatures allow almost every flake to stick.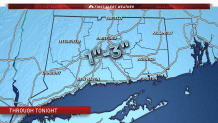 I do think the snow will have some staying power this evening. As the main batch of it moves through by 5 p.m. we will see an area of lift developing in the low levels of the atmosphere through Massachusetts and northern Connecticut. This should allow snow to continue at a light clip through later this evening and tonight. Some additional accumulation will be possible. By the time the storm winds down 1"-3" of snow should be the final range across the state.