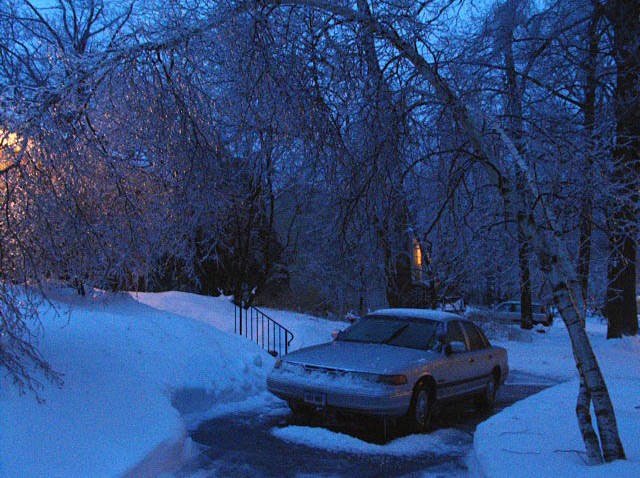 Accumulating ice continues to be a major problem on Wednesday morning.
The problem was clinging ice, which took down trees limbs and power lines in parts of the state Tuesday night. On Wednesday morning, it created traffic problems in Middletown.
Route 17 is closed at Brown Street in Middletown because a pole and wires are down.
At the height of the storm, CL&P and United Illuminating reported more than 22,000 outages.
As of Wednesday morning, just over 2,000 Connecticut Light and Power customers are without power, most are whom are in Durham. Power crews have been out since Tuesday, working on lines and restoring power.
The other issue is slick roads. On many, the slushy mix from snow and rain is freezing.
The problem began on Tuesday. Last night, State Police said there were several accidents statewide.
Water freezing on the roadways made it difficult for drivers to get enough traction to move. Even when drivers could get going, they were frequently stopped for crashes.
"It's definitely getting worse now since the last hour," Don Foss, of Bolton, said.
Within a span of 30 minutes on Tuesday night, NBC Connecticut crews came across three different crashes on Interstate 84 in Hartford.
The first was heading westbound near Sigourney Street. The second was right after the exit for Asylum and Capitol avenues, on the eastbound side. Then, a car trying to avoid another vehicle stopped in the road, crashed.
"People really need to slow down, but they don't," Stephen Niggebrugge, of Manchester, said.
State police said, even though the DOT has continuously sanded and salted the roads, it's quick to wear off. Then drivers get stuck. When one car stops, it causes even more problems on the road.
One State Trooper had to get out of his own cruiser to help direct traffic in the middle of the highway.
"It's really hard to steer. And a lot of them ,if they're not slush, they're straight ice and it's really hard to drive," Niggebrugge said.
A portion of I-84 East in East Hartford was actually shut down for a few hours on Tuesday night, while state police cleared a multi-vehicle crash near Roberts Street. The same happened on Route 2 West in Glastonbury when a car was involved in a crash with a State Police cruiser. Many drivers are worried about the roads still being slick Wednesday morning.
"It's going to be really bad tomorrow. If it stays like that, probably no work tomorrow," said Edwin Cemino of Manchester.
Power Problems
On Tuesday, some of the towns hardest hit were Middletown, Meriden and Cheshire. In Cheshire, the weight of the ice took down a stop light and closed Route 10. Broad Street, the main drag through Meriden, was also shut down after a powerline fell.
At one point more than 10,000 customers were in the dark there. Both Cheshire and Middletown opened shelters on Tuesday night for residents who lost electricity. The Middletown shelter closed at 7:30 a.m. on Wednesday.
Milder temperatures are in the forecast for Wednesday and it will get colder for Thursday. Then, brace yourself -- more snow is likely for Friday.
The weather is also prompting many schools to open late. You can check here for delays.
Send your snow photos by clicking here.