11 p.m. Update: Well I've changed my mind :) With a tick colder of the latest GFS and a rather chilly looking Canadian RGEM model I feel just confident enough to throw out some preliminary numbers. We still have two camps with the colder Euro and the warmer GFS. More often than not the truth lies in the middle and that's where our forecast is with 1"-3" for most - <1" at the shore and 3"-5" in far northern Connecticut. We certainly may see some changes to this in either direction if we see a jump toward the GFS or Euro.
Have a great weekend!
Evening Update: My plan tonight was to draw up a snowfall map for the 11 p.m. news - but as of right now I'm planning on holding off. The reason is that while it appeared our computer models were beginning to converge on a solutuion earlier today they've begun to diverge with two very different outcomes.
One of the best ways to illustrate this is to look at the GFS and European ensembles. Bascially, the computer models are run a number of different times to produce a set of reasonable possible solutions. The GFS is run 21 times and the European is run 51 times - all with slightly different initial conditions and model physics. When the ensembles are tightly clustered it means there's high confidence in the forecast. When the ensembles are all over the place it means there's low confidence.
In this case the GFS ensembles are insisting on only minor snowfall accumulations before a transition to ice. Of the 21 ensemble members no member produces over 2" of snow in Hartford. However, more than 50% of the European ensemble members show more than 3" of snow! This shows there are two distinct and different camps - all of it seems to be due to the strength of the low pressure to our west. The stronger the low (like the GFS) the more warmth that floods north.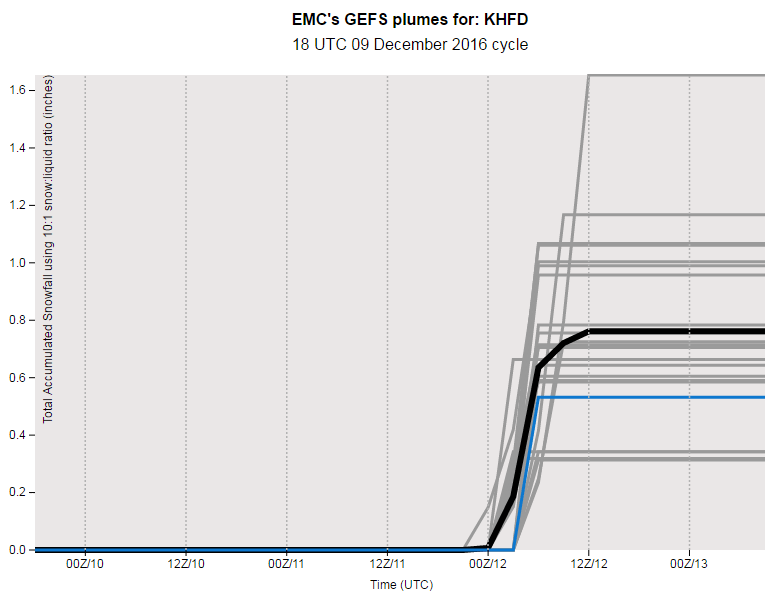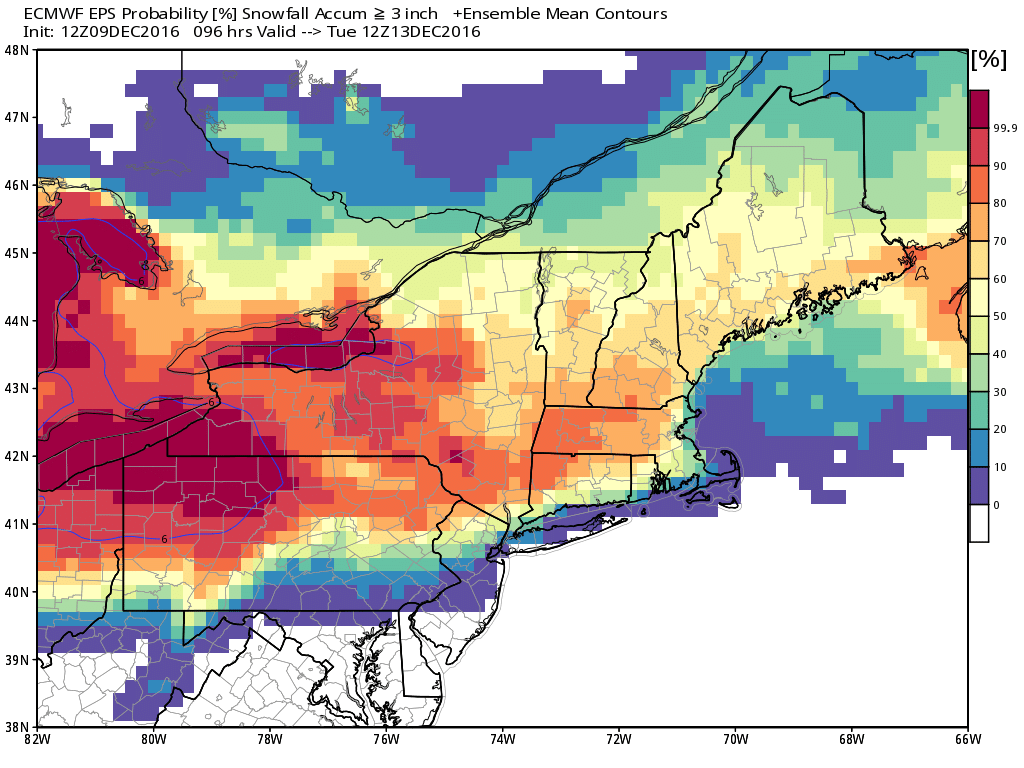 Regardless of which set of ensembles is right the morning commute on Monday looks icky with some snow transitioning to ice and eventually rain (unless the colder European model solution is right). Until we see some type of agreement it's hard to pin down one solution as the right one as I don't see anything that really argues one way or another. Normally I would hedge toward the European solution - but our short range models such as the NAM and various WRFs show a warmer scenario too like the GFS making it tough to toss out.
Previous Update: Our overnight computer models have come into better agreement and it's becoming more clear the kind of storm we'll be dealing with later Sunday and Monday. Yesterday, I wrote about the sizable differences between our two main sets of models - the GFS and the Euro. Now, there's only a much smaller difference between the two.
We've found some common ground here and it appears the odds of a significant snowstorm >6" have come down quite a bit. What does seem most likely is a period of snow (a couple of inches still possible) before we transition to an icy mix right before or during the Monday morning commute. Icky.
The GFS model which is notorious for bringing in low level warmth too quickly when there's a high pressure lurking to the north and east even keeps temperatures around or just below 32F Monday at 7 a.m. during the height of the storm.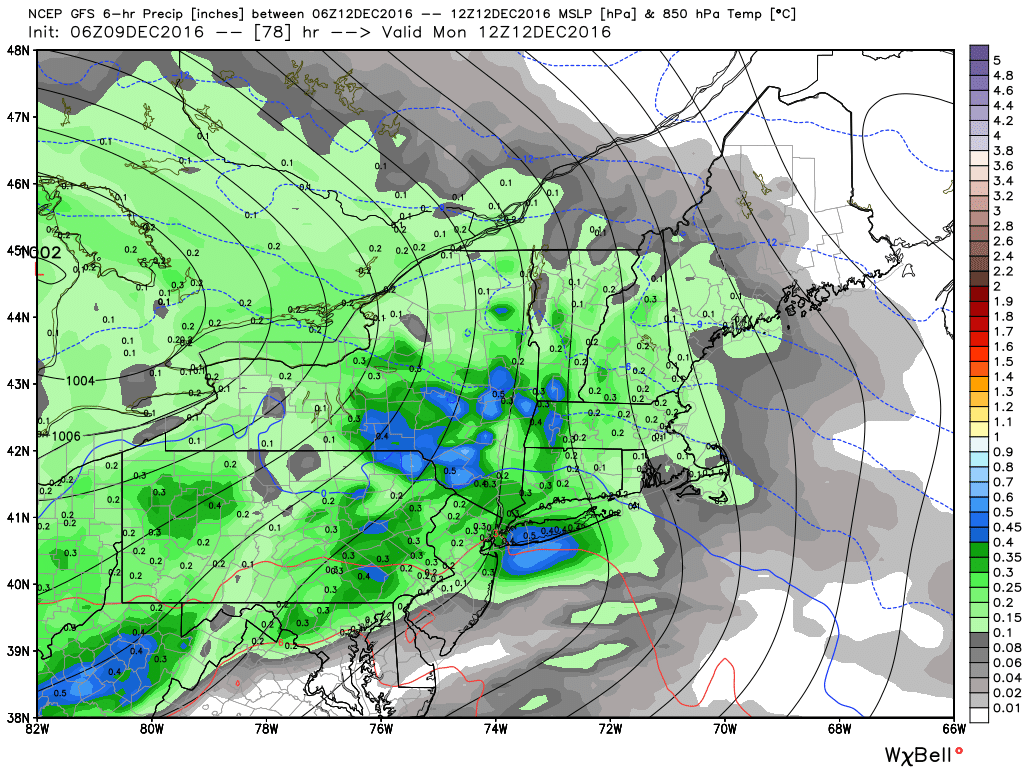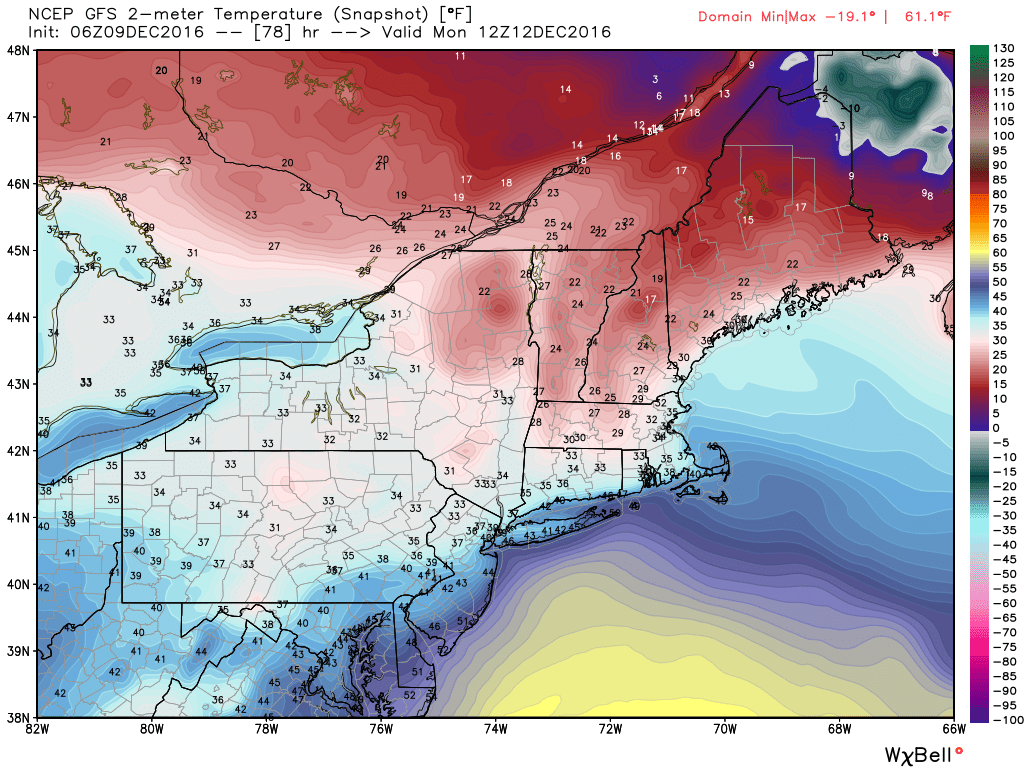 While I'm becoming more confident that this won't be a big storm - the timing for what we do get looks unfortunate. The best bet right now is an icy mix for the morning commute. Could this change? Yes, it is possible that the storm comes a bit farther north and we wind up with a warmer scenario (faster change to rain).
More details through the day!