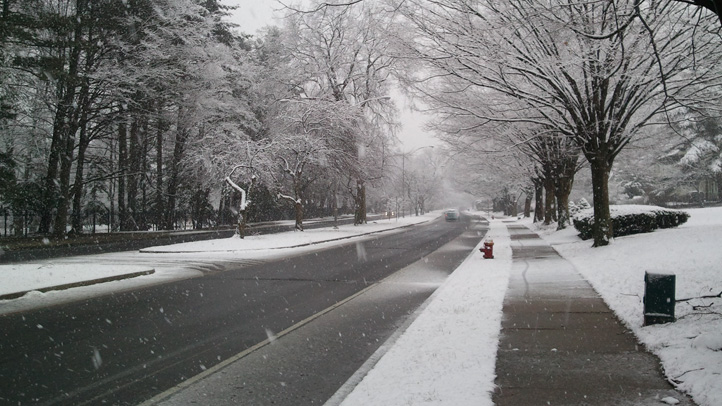 Snow coated much of Connecticut Wednesday, with sleet and rain falling in southern parts of the state, and the morning commute on Thursday is wet and slushy for many drivers.
Most areas were expected to see 2-to-5 inches of snow by the end of the storm, except for the immediate shoreline, which was expected to get little to no snow. Another 1 to 2 inches could fall on Thursday. Occasional snow showers will mostly melt on contact.
A winter storm warning was issued for northern Litchfield County through 6 p.m. on Thursday, with northern Litchfield County seeing the possibility of more than 5 inches of snow, according to NBC Connecticut Chief Meteorologist Brad Field.
Much of what is falling on Thursday morning is rain, but the state Department of Transportation has 400 trucks pre-treating the roads in case temperatures fall.
Gov. Dannel Malloy and Lt. Gov. Nancy Wyman partially activated the state's Emergency Operations Center at noon Wednesday and the state Department of Motor Vehicles canceled road tests after 11:30 a.m. on Wednesday. Testing will resume on Thursday at 1 p.m.
"After assessing the situation with emergency management officials and key agency Commissioners this morning, we will partially activate the EOC at noon today to allow us to monitor conditions across the state," Malloy and Wyman said in a statement. "Although this will not be a major storm, the timing of the storm is of concern—it will very likely cause delays as people are heading home this evening. We've not seen a lot of snow accumulation this winter, so we want to remind people to take it easy on the roads and drive cautiously."
Hartford Mayor Pedro Segarra implemented the City's snow emergency plan, releasing all non-essential City workers at 3 p.m. Hartford also coordinated with several major corporations to stagger the early release of employees. The plan will allow for fewer cars to be leaving the city on treacherous roads at the same time.
State police said they responded to more than 100 crashes on Wednesday because of the weather.
Sign up for school closing alerts.