Some schools started late on Thursday morning as some snow coated parts of Connecticut and there were several crashes on the roads.
Police responded to several crashes in Lebanon. One is on Waterman Road and there was a multivehicle crash at Clubhouse and Oliver Road. No injuries are reported.
There were also crashes on the on- and off-ramps on the Wilbur Cross Parkway in New Haven and Orange and there was a rollover on Saunders Hollow in Old Lyme.
Follow Heidi Voight on Twitter for updates.
Schools were delayed for two hours in Waterbury and Regional School District 14 and 90 minutes in Watertown.
In addition to snow this morning, there is enhanced risk for snow early in the afternoon.
Not everyone will see snow, but a coating to 2 inches of snow are possible in the cities and towns that get in on a snow shower.
SIGN UP FOR SCHOOL CLOSING ALERTS
This is an ideal time to download the NBC Connecticut App, which has an interactive radar.
High temperatures will only be in the 20s, so slippery roads are expected once again where the snow falls.
Finally, a day with no new snow arrives on Friday. Skies will feature a blend of more clouds than sunshine with highs only in the 20s.
The weekend looks mainly dry, save for a few snow showers Saturday morning, so the big story will be major cold.
With lots of clouds temperatures will only be in the teens Saturday, but plunge into the single digits below zero on Sunday morning.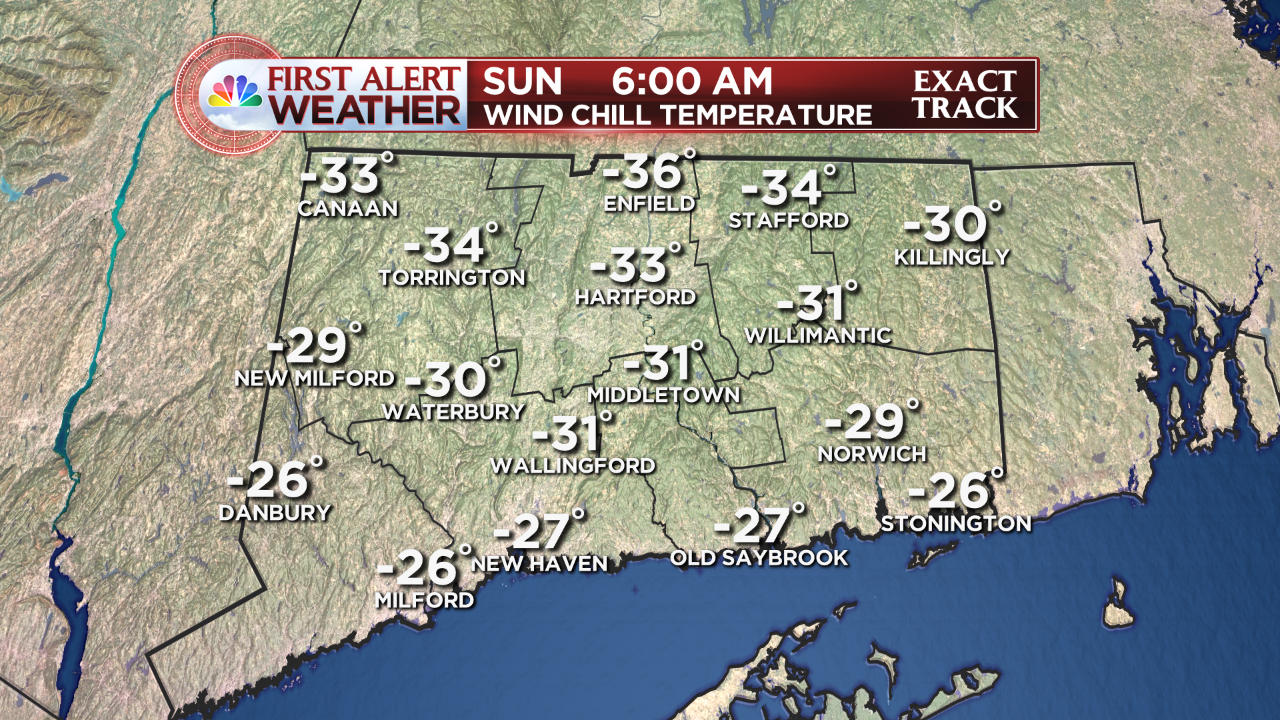 With a gusty north wind, wind chills will be near 30 below zero Sunday morning. Air temperatures will peak in the teens by the afternoon, which is still on the cold side for Valentine's Day.
It's been exceptionally difficult to set record low temperatures in recent years, but they are a possibility Sunday.
In the Hartford area, the record low is -9 set in 1979 and the record low max is 11 in 1979.
In the Bridgeport area, the record low is 3 set in 2015 and the record low max is 18 in 1979.
It looks dry to begin the new work week on Monday with temperatures back near freezing but a storm could bring a wintry mix on Tuesday.