The snow has ended across the state and now lots of sunshine is visible statewide. Most of the state saw between two and six inches of fluffy, sticky snow.
Nearly 300 schools and districts, including UConn, made the decision to delay or close schools on Monday as spring snow covered roads in snow.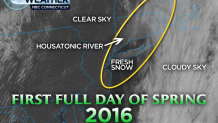 A pop-up rain shower is possible this afternoon, otherwise it will be bright and windy. Highs will be in the 40s, so melting will occur.
Lots of sunshine will make for a great Tuesday as high pressure builds in. Highs will be well into the 40s.
A few showers come through on Wednesday, but it's a trade-off as temperatures will rise into the upper 50s.
An abundance of clouds sticks around for Thursday, with another chance for showers. Highs will be near 60 degrees.
The warmer than average weather lasts into Friday before a cold front brings showers and a change in temperature in time for the weekend. Highs will be near 60 degrees.
Uncertainty does exist regarding a back-door cold front late week. Should it slip into Connecticut, temperatures would be 10 or 20 degrees lower than the current projection of 60 degrees.
The early call for the weekend is dry, at least to start, though there are conflicting solutions as to where a rain storm will be on Easter Sunday. Highs will be in the 50s.