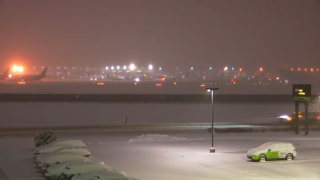 Some flights at Bradley International Airport are canceled on Tuesday amid the state's first winter storm of the year.
Multiple flights have been canceled and other flights are delayed.
Anyone with a flight on Tuesday is urged to check their flight information before heading to the airport. You can see the arrivals and departures here.
The airport is open and snow removal is ongoing.
"As our airline partners continue adjusting their schedules in response to the storm, additional cancellations and delays are possible," a spokesperson for the Connecticut Airport Authority said in a statement.
The snow started on Monday night and is continuing through the day on Tuesday. Four to eight inches of snowfall is expected in most of the state. Some locally higher amounts are possible in the northwest hills.