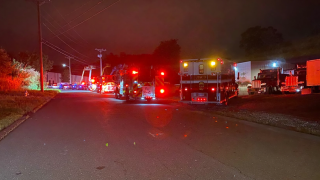 Some Southington residents were asked to shelter in place with windows closed and air conditioning units off Sunday night after an ammonia leak.
Officers started receiving reports of a strong ammonia smell in the area of Elizabeth Drive just before 8 p.m.
Residents within 1.5 miles of 93 Industrial Drive were asked to stay indoors because of an anhydrous ammonia leak, according to fire officials.
Initial crews arrived at Diamond Ice on Industrial Drive and detected an odor as well as a plume venting from the roof area that was discovered with the use of thermal imaging cameras. After further investigation, firefighters found a tank leaking inside of the building.
Area residents in Southington, Bristol and Plainville were notified using the emergency notification system and through door-to-door communications to stay indoors and shelter in place with windows closed.
The intersection of Captain Lewis Drive and West Queen Street was blocked off while firefighters investigated, but has since been reopened.
The incident was stabilized just before midnight and the shelter in place order was lifted. No injuries were reported.
Representatives from the Department of Energy and Environmental Protection and the Division of Emergency Management and Homeland Security Region 3 were on-site assisting in the coordination of operations. Several additional nearby fire departments responded to the scene to assist.
The incident is still under investigation.