A South Windsor man has been arrested and charged in connection with the death of his 94-year-old father.
Police officers responded to a home on Scantic Meadow Road in November 2016 after the grandchildren of 94-year-old Robert Libby asked officers to check on him, police said, and a series of text messages from Robert's son, 59-year-old James Libby, indicated that James was suicidal and Robert had died in the home.
When officers went to the home, they realized Robert had died several days earlier. He appeared to be extremely emaciated at the time of his death and had received a minimum of care, according to police.
Officers found a home in disarray with hoarding conditions. Police said it was filled with garbage and hundreds of empty beer cans and they released a photo. It was infested with fleas and police also said they found human feces.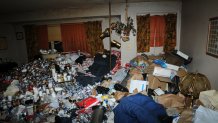 James Libby admitted he had not given his father any food or water and had neglected to change him for three days prior to discovering he'd died, according to police.
Investigators later obtained an arrest warrant for James Libby and served it on Monday. He has been charged first-degree manslaughter, abuse in the first degree and cruelty to persons.
He was held on $750,000 surety bond and appeared in Manchester Superior Court on Tuesday.
He remains in custody, according to online court records, and no attorney is listed for him.
Online assessor's records list Robert as the owner of the house that police responded to.