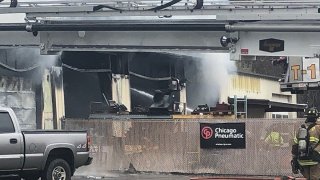 Able Tool and Equipment in South Windsor is evacuated after a fire broke out.
Police officers and firefighters have responded to the Wagner Construction business on Burnham Street and found heavy fire coming from the second floor.
The fire chief said the building was engulfed and learned that there were chemicals, which turned out to be gasoline, on the first floor.
Police said all employees have been evacuated and Burnham Street is shut down between Route 5 and Long Hill Road.
Mutual aid was called in.