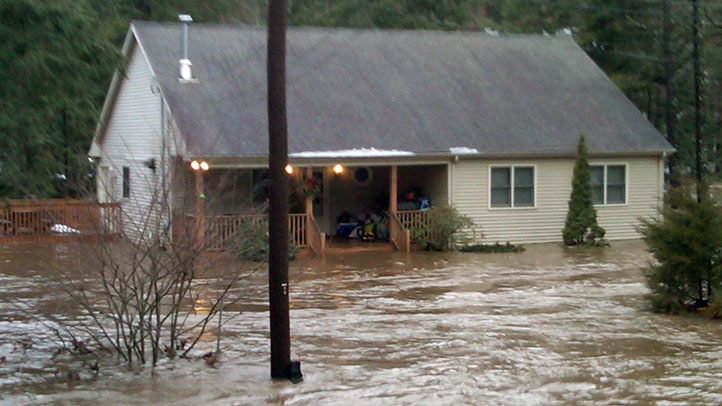 When the Pomperaug River overflowed its banks in March, it left its mark on the homes along River Trail in Southbury. Five months after the severe flooding, John Fleming is still living in a camper next to his damaged house.
"I've got to tear out all my floors, my showers, my baseboards, you name it," Fleming said.
Homeowners didn't meet federal thresholds to apply for federal aid, so the cleanup has been slow.
"Just to look around and still see dumpsters and my neighbors won't be back in until the end of September, if they're lucky," said Steve Hettenbach, who lives on River Trail.
"They've been displaced for 163 days now from this flood and many of them don't know what to do," said Southbury First Selectman Bill Davis.
Now some are trying a different route. They are hoping to get federal money, not for repairs, but to prevent the river from ever swamping their homes again.
About a dozen homeowners met with officials from the Department of Emergency Services and Public Protection, the agency responsible for administering funding through the Hazard Mitigation Grant program.

"We hope to get grant money to elevate homes, or build utility rooms, so they can take furnaces and utilities and put them above the 100-year flood plain," said Emergency Management Specialist Program Douglas Glowacki.
Glowacki says the state has $2.7 million to dole out, but the grant is competitive. Southbury is competing with 40 other Connecticut towns vying for the aid.
John Fleming has met with numerous contractors to get estimates to see how much it will cost to raise his house another eight feet, basically putting his door on his roof.
But even if Southbury gets the grant money, it won't cover everything. Homeowners would have to come up with 25 percent of the cost of elevating their homes, something Steve Hettenbach says isn't an option.
"It's impossible. I'm a landscaper with a small company. I have two kids. I don't have 25 percent of anything to come up with right now," Hettenbach said.
Fourteen homeowners are taking part in the town's grant application, that is due to the state by September 30th.