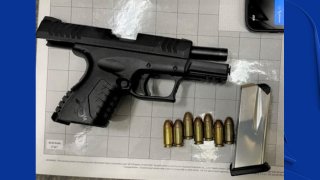 A Southbury man is accused of having a loaded gun in carry-on luggage at Westchester County Airport in New York, according to TSA.
The Transportation Security Administration said police arrested the man and prevented him from bringing a.45 caliber gun that was loaded with seven bullets through the security checkpoint on Monday.
TSA said the gun was detected among the man's carry-on items as he entered the TSA checkpoint.
TSA said this was the first firearm detected at the airport so far this year.
Passengers are permitted to travel with firearms in checked baggage, but they must be unloaded then packed in a hard-sided locked case, which should be taken to the airline check-in counter to be declared, according to TSA.