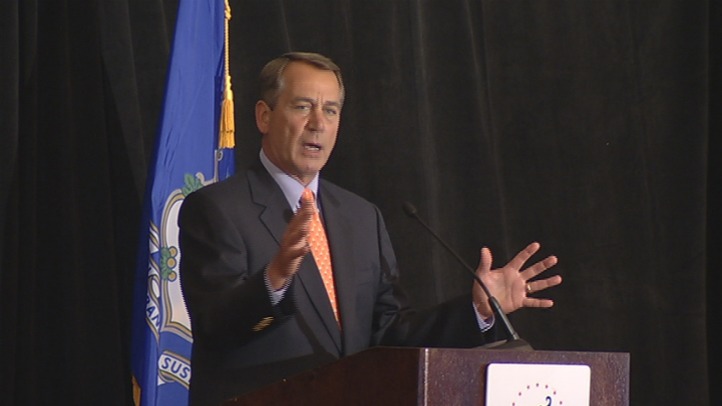 Speaker of the House John Boehner was in Stamford Saturday for his first public appearance since the budget deal was struck averting a government shutdown.
Boehner headlined the Prescott Bush Dinner at the Hilton in Stamford. The dinner is the largest Republican fundraiser in the state.
He used the occasion to talk about the eleventh-hour budget deal, and he even mocked Vice President Joe Biden's negotiating tactics.
Talking about a Thursday meeting that included Sen. Harry Reid and Biden at the White House, Boehner said Biden decided to put his two cents in to the negotiating process.
"All of a sudden, the jovial, never-says-a-nasty-word Joe Biden, jumps up and says 'Well, I think we've had enough of this. I think we ought to just shut it down. We'll let the American people decide'," The Speaker recalled Biden saying.
"I looked over at Joe and said ,'Joe, what the hell is that?'".
"I've told the media for months, the goal is not to shut down the government," said Boehner. "The goal is to cut spending in Washington DC."
The dinner, which this year, honored State Rep. Larry Cafero cost donors anywhere from $250 to $5,000 a person. It attracted a who's who of big name Republicans including Linda McMahon, former Congressman Chris Shays and former White House Press Secretary Ari Fleischer.
Outside the event a small group gathered to protest the Speaker's visit.
"They're focusing on social programs and not on increasing revenues and stopping our military adventures overseas," said Jody Eisemann of Fairfield.
The Executive Director of the Connecticut Democratic Party released a statement in response to the Speaker's visit.
"Unbelievable," said Eric Hyers. "Less than 24 hours after holding the government hostage in an attempt to de-fund Planned Parenthood, Speaker Boehner is raising campaign funds. Thank you CT voters for rejecting his candidates last November in every district in the state. The last thing America needs is more votes for the Republicans' far-right ideological agenda."