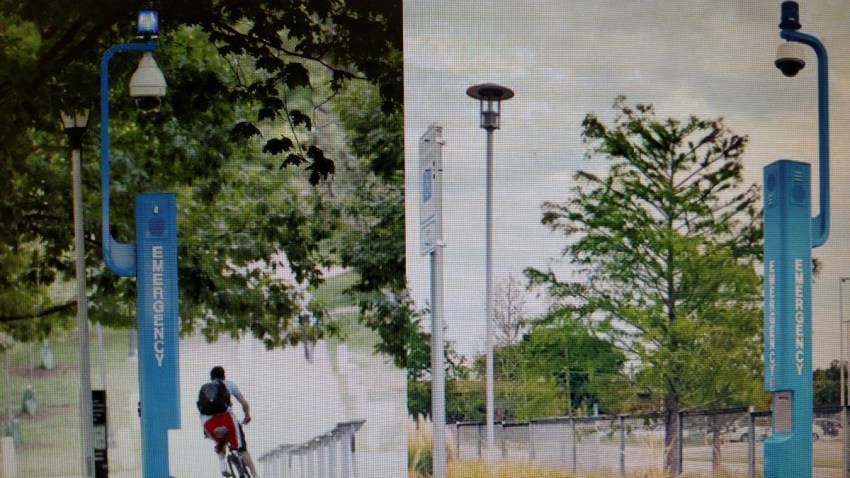 Following a recent sexual assault and murder just last week, the city added two public parks to the list that will receive a Blue Light Emergency Phone with a security camera on top.
The seven parks are Carwin Park, Cove Island, Cummings Park, Lione Park, Mill River Park, Scalzi Park and Veterans Park, Mayor David Martin (D) said.
Stamford Police say the 30-year-old from the Oct. 16 sexual assault at Cove Island Park had to run home to report the attack because she didn't have her cell phone. The mayor said
"If she had been able to go to that Blue Light camera, she could have notified us immediately and gotten the police response there much faster," Mayor Martin said.
Stamford Police are still searching for the man who attacked the jogger. While police say 20 tips have come in since releasing a suspect sketch, Mayor Martin said a security camera could have aided their investigation.
"That would have meant we would have had a recording of the assailant when he left the park and therefore we would had a clear picture and she could ID this is the person that attacked me in the park," he said.
Following last Monday's fatal shooting of 43-year-old mother Maxine Gooden, city officials added Lione Park to the pilot program of Blue Light phones and surveillance cameras.
Franklin Reid said he knew the homicide victim, but he isn't sold on the addition of a surveillance camera.
"It will be good, but at the same time it is invading people's privacy," he said.
Mayor Martin told NBC Connecticut the camera feeds won't be monitored on a daily basis, but rather when police are trying to identify criminals.
"We're not trying to spy on people," Mayor Martin said. "We're trying to prevent crime"
The seven Blue Light phones and cameras will cost about $150,000. The mayor said funding should be approved this Thursday and he hopes to see them installed in the parks as soon as possible.