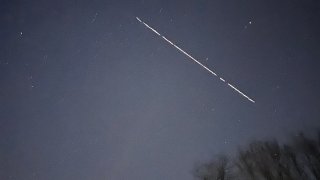 Just days after a SpaceX rocket deployed a string of satellites into orbit, people across Connecticut will have another chance to see them pass overhead Tuesday evening.
Many people in Connecticut got a chance to see the group of 55 Starlink internet satellites move across the nighttime sky Monday.
The satellites were deployed by a SpaceX Falcon 9 rocket that launched from Cape Canaveral in Florida early Sunday morning.
They will pass overhead again tonight beginning at 6:31 p.m.
Skies over Connecticut will by crystal clear this evening, making tonight the best chance for getting a good look at the satellites.
If you are interested in checking them out, you will want to try and find an area that doesn't have a lot of bright lights.
Look to the West at 6:31 p.m. The satellites will appear very low in the sky, only about 10 degrees above the horizon.
About three minutes later, the string of satellites will be at their highest point -- 65 degrees above the horizon in the northern sky.
At 6:35 p.m. they will disappear from sight about 35 degrees above the horizon in the east northeast sky.
The Starlink satellites will pass over Connecticut again Wednesday beginning at 6:44 p.m. and Thursday at 6:56 p.m., though increasing clouds may keep us from getting a good look at them.