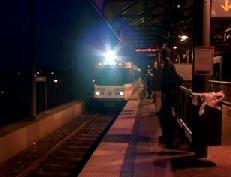 Connecticut has applied for $220 million from the federal government to improve rail service between New Haven and Springfield, in conjunction with Massachusetts and Vermont.
The service is expected to help connect New York City with central Connecticut, Boston, western Massachusetts, Vermont, and Montreal, according to U.S. Sen. Chris Dodd.
Twenty members of the Congressional delegations of Connecticut, Massachusetts, and Vermont wrote to U.S. Secretary of Transportation Ray Lahood and the Administrator of the Federal Railroad Administration Joseph C. Szabo to support the application Connecticut submitted, in partnership with Massachusetts and Vermont.
The letter says: "Fast and frequent rail service will take cars and trucks off these congested roads, reducing emissions and improving energy efficiency. The proposed rail network that integrates major seaports, airports and transit systems will significantly improve the movement of freight, and regional and intercity travel. As a result, we expect the corridor to enable livable communities to thrive and state and local economies to grow."
The lawmakers said the grant would support double tracking between New Haven and Springfield and improvements to signals, communications, crossings, bridges and stations on the line.

Upgrades to the Springfield Line, the lawmakers said, would enable improved mobility and future connectivity along routes between Montreal and New York City and between New York City and Boston.
The said that improving the corridor between New Haven and Springfield would grow ridership by enabling more roundtrips and faster travel times.