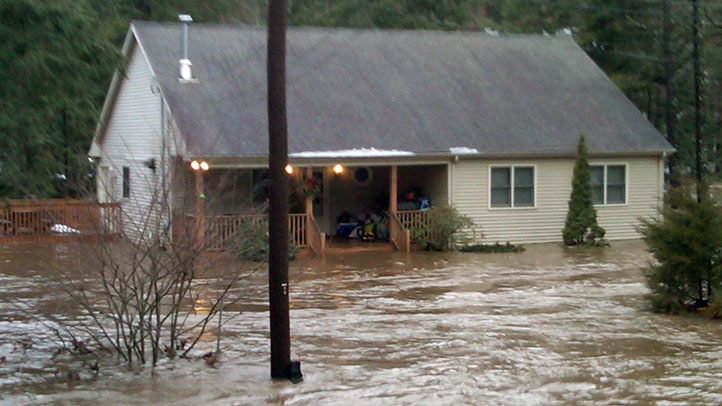 Heavy rain is moving through Connecticut and that is causing some flooding issues.
Route 7 in New Milford is closed between Sunny Valley and Bridge Street because of flooding, Route 80 at Great Hill Road in North Branford is closed because a light pole is down and Route 53 on the Bethel-Danbury town line is closed at Gallow Hills Road because of flooding.
Gov. Dannell Malloy on Thursday night activated the State Emergency Operation Center.
Malloy held a conference call with the Department of Emergency Management and Homeland Security on Thursday afternoon and spoke with town leaders to discuss the impending storm and the possibility of flooding.
"We've already seen some flooding in areas across the state, and the rain we're expecting to get over the next 24 hours or so is a concern," Malloy said.
The Emergency Operations Center opened at 11 p.m. on Thursday.
The biggest threat for flooding will be along the Housatonic River and its tributaries. Swollen rivers in other parts of the state could mean basements see more flooding damage before the rain moves out.
Residents who live in Oxford, downstream from the Stevenson Dam, are on a code red calling system and a phone call provides updates on river levels and orders for evacuations.
Several residents in this area aren't living in their homes right now because of damage caused by water earlier this week.
More rain has the Pomperaug River raging in Southbury and emergency crews have their flooding apparatus on standby and a supply of 100 cots and extra generators.
Sen. Richard Blumenthal will visit the Housatonic Valley today to see the damage, determine how residents are being notified about evacuations and whether there's room for improvement. He will also discuss the possibility of getting federal aid to help towns affected.
Get the latest on the forecast here.
If you have weather issues, tell us about them on our Facebook page.