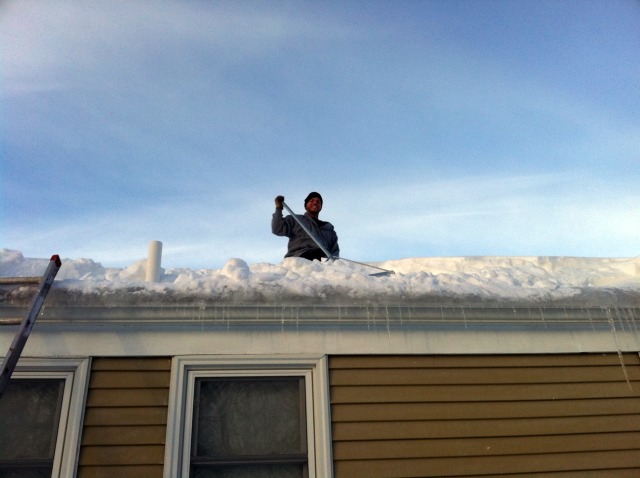 With more snow on the way on Tuesday and Wednesday, Gov. Dannel Malloy and the state Department of Emergency Management and Homeland Security are asking residents and business owners to clear the buildup of ice and snow from buildings, especially from flat or low-pitch roofs and decks.
"Over the next few days while we're not expecting to get any accumulating snow, I'd urge Connecticut residents to prepare for the next six weeks or so and clear off snow from unstable structures and their roofs -- this is especially important for buildings that have anything close to a flat roof," Malloy said on Saturday.
In the days since the last big storm, several barns and roofs have collapsed.
"Although sadly several animals were lost, fortunately none of the incidents so far have caused any human injuries. The risks to life and property are serious, however. And when the snow is allowed to accumulate, the danger grows with every storm," DEMHS Commissioner Peter Boynton said.
Newtown Building Official John Poeltl told the Newtown Patch that homeowners who are concerned about too much snow on their roofs, should contact a professional for help rather than climbing a ladder because of the danger of possibly falling off a roof.
Malloy also asked residents to clear snow from side-vented heating systems, mailboxes and fire hydrants.
"The state will continue to prepare for and respond to snow storms and related issues that may come our way, but I'm asking Connecticut residents to help us out," he said.
Between 10 and 30 inches of snow remains on the ground, with the deepest snow values across Connecticut, according to the National Weather Service.
"Snow may seem light and fluffy when you are looking at it from inside. But anyone who has shoveled a driveway knows it has real weight, and that weight increases tremendously when rain, freezing rain or sleet is added to the mix," Boynton said. "We strongly encourage everyone to be mindful of the stress on roofs and decks and -- if in doubt -- have the situation checked by as professional as quickly as possible."