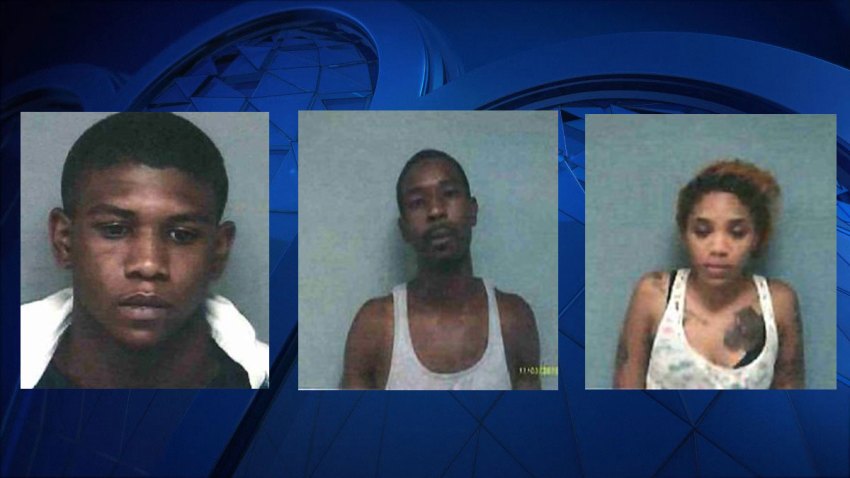 Connecticut state police have arrested three people in connection with an armed robbery at the rest stop off Interstate 84 in Willington.
Walter Kirksey, 19, of Birmingham, Ala., Benjamin Cooper, 27, of Birmingham, Ala., and Karanda Clemons, 23, of Roxbury, Mass. all face charges related to the incident.
Police said two male suspects, later identified as Kirksey and Cooper, allegedly robbed a victim at the eastbound rest stop between exits 69 and 70. The victim reported that one of the suspects pointed a handgun at the victim's head and the second suspect sprayed the victim with pepper spray. The victim said the suspect fled in a dark-colored SUV.
Troopers located a dark green Jeep Liberty on I-84 east near exit 74. The lone occupant, later identified as Clemons, was arrested when police saw items reported stolen from the victims in plain view in the vehicle.
Meanwhile Massachusetts state troopers found Kirksey and Cooper on foot just east of the Connecticut state line looking for a gas station. Police said the two men agreed to return to their vehicle where they were arrested by Connecticut state police.
Kirksey faces charges including robbery, larceny, reckless endangerment, possession of a firearm without a permit, commission of a felony with a firearms and threatening.
Cooper faces charges including robbery, larceny, assault, possession of a firearm without a permit, and weapons in a motor vehicle.
Clemons was charged with conspiracy to commit robbery, conspiracy to commit larceny, and tampering with evidence.
Each was held on a $250,000 bond and scheduled to appear in Rockville court on Aug. 15.