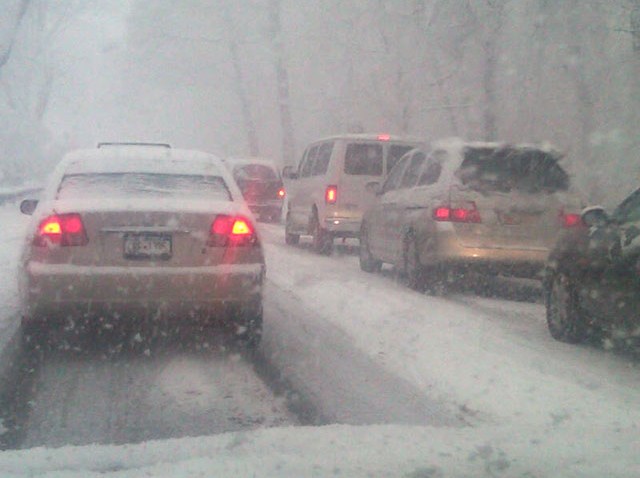 Governor Dannel Malloy held a conference call on Tuesday with municipalities in advance of tonight's storm and said there will be no decisions on whether a state of emergency will be called until at least 4 p.m.
However, should we receive the amount of snow expected, that people should stay off the roads, Malloy said.
There is a possibility of a great amount of snowfall, with 4 inches falling per hour and dropping 28 inches, or we could get 3 inches total, he said.
Executives from the Motor Transport Association of Connecticut are asking truck drivers to stay off the roads.
Meanwhile, state police have issued their plan. They said they will deploy four-wheel-drive vehicles and have sufficient troopers prepared to respond as needed.
Off-duty troopers and four-wheel-drive vehicles have been placed on stand-by in case they are needed.
During the heavy snowstorm on Friday, several Connecticut highways became very slippery and drivers became disabled, unable to move and blocked all lanes of the road, which kept DOT trucks from treating and plowing the highways, state police said.
State Police are recommending that motorists stay off the roads during the storm to prevent a repeat of major traffic issues. Wreckers have also been put on standby to respond if needed to clear road blockages.
If you must go out, state police recommend:
Get your vehicle "storm ready" with proper tires, adequate gas and proper wipers.
If you must travel during the storm, provide your route of travel details to a family member or friend.
Have a fully-charged cell phone, a bottle of water, nourishment bars and even a blanket in case of emergency.
In Wallingford, Master's Manna Food Pantry and Soup Kitchen will open at 4 p.m. for emergency operations to provide food and shelter for people in the greater Wallingford area.
You can check storm closings here.
Stay up to the date through our forecasts.