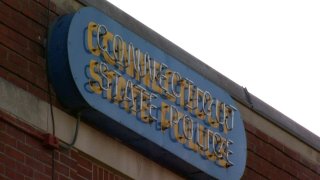 Connecticut State Police are investigating a road rage shooting incident that shut down part of Interstate 91 in Hartford on Saturday.
Troop H responded to the Jennings Road entrance ramp on the northbound side of the highway at about 4:50 p.m.
Police said two cars were involved in a road rage incident on I-84 eastbound between Bristol and Hartford. Both cars entered I-91 north and got off at exit 33, where the shooting happened on the ramp, according to authorities.
One of the vehicles involved had a bullet fired into the driver's side door. The car then crashed into the guardrail at the intersection of Jennings Road and the off-ramp, police said.
The ramp was shut down while troopers investigated. The ramp has since reopened.
No injuries were reported.
Anyone who may have witnessed the incident is asked to contact Trooper Nicholas Terry at 860-534-1070 ext. 6045 or by email at nicholas@ct.gov.