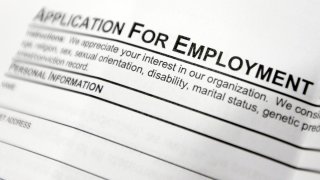 The Connecticut Department of Labor is partnering with the Hartford Athletic to hold the first Veterans and Diversity Hiring Expo at Dillon Stadium.
The event takes place today, from 1:30 to 5 p.m., at Dillon Stadium in Hartford.
More than 60 organizations are expected to participate. Those organizations "support a diverse workforce providing opportunities for veterans, people of color, women, and those with disabilities," according to an announcement on the expo website.
"Serving our veterans, diverse communities, and those who need us most is one of our most important jobs as a government and as neighbors," Gov. Ned Lamont said in part in a statement.
All registered attendees will also receive a free ticket to the Hartford Athletic Veterans and Military Appreciation Night match vs. Louisville City FC at 7 p.m. this evening.
The event will be free to attend though people planning to participate are encouraged to register online at https://www.hartfordathletic.com/expo.
Registration is still open for job seekers, but not required to attend the expo.
The list below of employers planning to attend comes from the event site:
Aflac
Amazon
Army National Guard
ATI Metals East Hartford Operations
Avangrid
Beebe Landscape Design
Cadence, Inc.
Cattleya, LLC
Chapel Haven Schliefer Center
CliftonLarsonAllen
Connecticut Department of Administrative Services
Connecticut Department of Transportation
CT Fastrak/CT Transit
Connecticut Lottery Corporation
Connecticut State Colleges
Connecticut State Police
Data-Mail
Dattco Bus Company
Dog Star Rescue
Dungarvin Connecticut, LLC
Dupli - Envelope & Graphics
Eastern CT Health Network
Eljen Corporation
Fed Ex Ground
Fortis Solutions Group
Gengras Auto Group
Hartford Athletic
Home Depot
Home Instead
Horizon Services
HP Hood
ITW Graphics
Journey Found
LAZ Parking
Liberty Bank
Lighting Affiliates, LTD
LOWES
Manafort Brothers, Inc.
Manchester Police Department
Metal Finishing Technologies
The Metropolitan District (MDC)
MFR Property Services LLC
Navarro Trucking
Nucor Steel Connecticut
Nuovo Pasta Productions
O&G Industries
Powerscreen New England
Propark Mobility
Quest Global
River Ridge at Avon
Stop & Shop
The Reserves Network
Torrington Savings Bank
Trinity Health of New England
UConn Dining Services
UPS
US Army
USA Haul
W+D North America
West Hartford Police Department
Windows Restorations of CT
Wounded Warrior Project
Zoe's ProEdge Painting