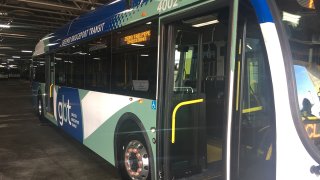 State officials were in Bridgeport Monday morning to unveil the first battery-electric buses used to serve the public in Connecticut.
Gov. Ned Lamont was joined by other federal, state, and local officials for the event at the Greater Bridgeport Transit bus garage.
The two buses unveiled on Monday will run in Bridgeport and will reduce the city's use of diesel fuel by 23,000 gallons in the first year, according to officials.
The buses do not release any tailpipe emissions and will use 125 kWh electric bus chargers installed at the GBT bus maintenance facility. Each replacement of a diesel bus with an electric bus will avoid 230,000 pounds of carbon dioxide released into the environment each year – the equivalent of planting 5,000 trees, according to Gov. Lamont's office.
"This program illustrates our commitment not only to public transportation and the thousands of Connecticut citizens who rely on it every day but also to the environment," Lamont said. "This green technology is state-of-the-art and will serve us for years to come with clean, safe, reliable service, which is the best way to get people out of their cars and onto buses and trains."
The two buses are the first of five that will be operating in Bridgeport.