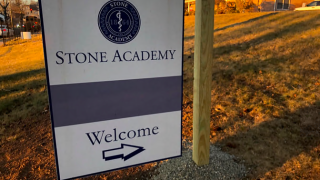 State officials have confirmed that Stone Academy's three locations across the state are closing immediately after announcing just a day earlier that classes would continue for the rest of the month.
The school community learned day-of that Wednesday was the last day of classes.
In a statement, Stone Academy said they're "discontinuing" all classes at the end of the day Wednesday.
The academy notified the state's Office of Higher Education of their decision.
Stone Academy's closure has many feeling devastated and even betrayed by the lack of transparency regarding compliance issues uncovered by the state back in July.
Among those violations include invalid reports of clinical hours, sub-standard test scores, sparse attendance and under-certified instructors.
According to Connecticut's Office of Higher Education, roughly 20% of Stone Academy's staff were not qualified to teach in the practical nursing program.
After the school did not address the concerns raised in July, the Office of Higher Education sent a letter to the school back on Jan. 26, calling for an audit of the school, and for new enrollment to be suspended.
An Office of Higher Education spokesperson told NBC Connecticut that Stone Academy will officially close on Friday, Feb. 24 at 5 p.m. Staff will be available to help students until then.