The NBC Connecticut meteorologist have issued a First Alert for a storm expected to lash the state with heavy rains and strong winds overnight.
The worst of the storm threat is expected between midnight and 3 a.m. Friday. Severe thunderstorms are possible in some areas and could bring down trees.
A wind advisory is in effect for part of the state, with a high wind warning in effect in parts of central and eastern Connecticut. Power outages are possible.
As of 11:35 p.m., Eversource was reporting 13,288 without power.
A large tree came down on Farmington Avenue near Gin Still Lane in West Hartford.
Route 30 in Vernon is closed between Merline Road and Tunnel Road because of a pole down and wires across the road.
In Ellington, Route 140 is closed near Webster Road for a tree on wires.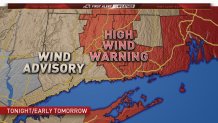 Wind gusts are expected between 45 to 55 mph, but could reach over 60 in some areas.
The clouds and rain will end by 6 a.m. and it will be sunny for Friday with colder weather. Temperatures in the 30s and a freeze are possible by Saturday morning.
You can get the latest forecast anytime here.