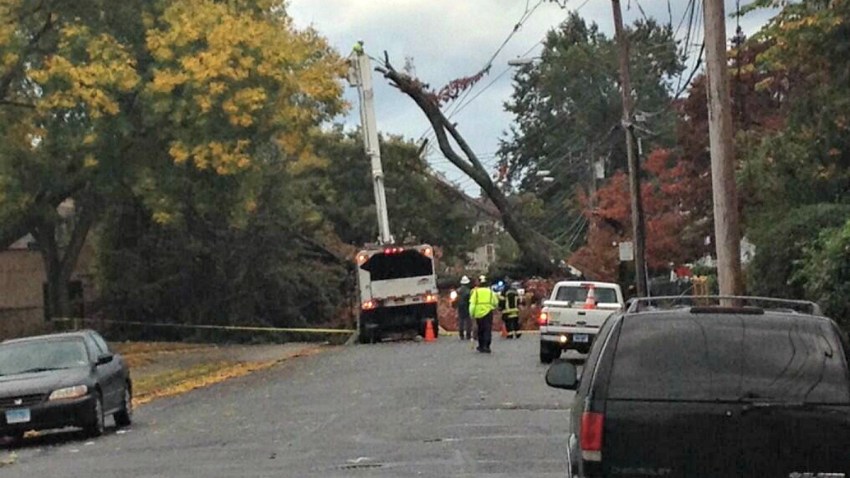 A line of strong storms knocked out power to thousands of homes across Connecticut on Monday evening.
Trees were toppled in Bridgeport and wires were reported down in Avon and in Durham.
At the height of the storms, more than 3,700 Connecticut Light & Power customers were without electricity. Another 1,600 United Illuminating customers were in the dark.
In most areas, the lights were coming back on by about 7:30 p.m.
The National Weather Service issued a tornado watch for Litchfield County as a powerful cold front moved into the state. That watch expired at 5 p.m. Severe Thunderstorm warning that were issued for several areas of the state have also expired.
A severe thunderstorm watch remained in effect until 10 p.m., but the threat of severe weather in the state is over, according to NBC Connecticut Chief Meteorologist Brad Field.

CHECK THE INTERACTIVE RADAR HERE.

Wind advisories are in effect until 8 p.m.
FEMA has posted safety tips for what to do in the event of tornadoes.
Before a tornado strikes, build an emergency kit and make a family communications plan. Listen to NOAA Weather Radio or to commercial radio or television newscasts for the latest information. In any emergency, always listen to the instructions given by local emergency management officials.
Be alert to changing weather conditions. Look for approaching storms. Look for the following danger signs:
Dark, often greenish sky. Large hail
A large, dark, low-lying cloud (particularly if rotating)
Loud roar, similar to a freight train.
If you see approaching storms or any of the danger signs, be prepared to take shelter immediately

The cold front will clear the state overnight tonight and brighter, sunny weather is expected on Tuesday and Wednesday.

After that, a coastal low-pressure system will form south of us and bring the threat of showers and gusty winds in your forecast for later this week and the weekend.
When foul weather happens, we want your photos. Share them with us at shareit@nbcconnecticut.com or upload them here.