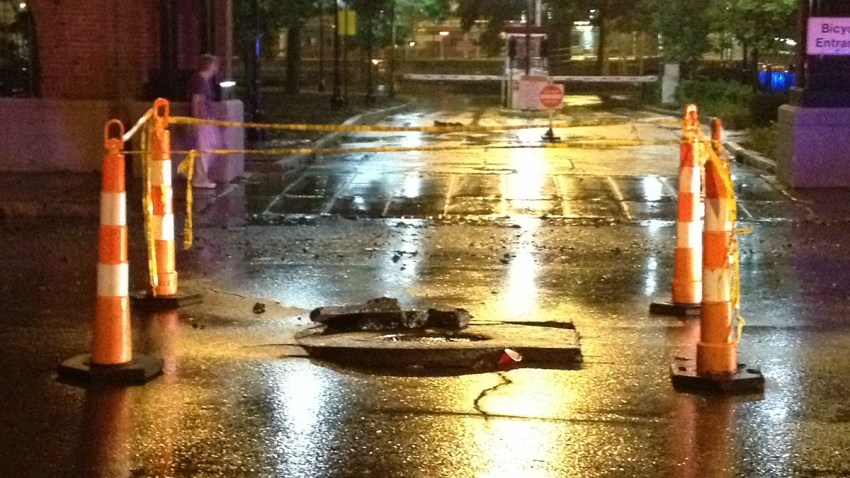 Heavy rain from thunderstorms brought flooding to parts of western and central Connecticut, and flash flood warnings issued for Middlesex and New Haven counties were extended until 12:30 a.m.
Flash flood watches are also in effect for parts of the state as heavy rain moves in from the west. Shortly after 10 p.m., the National Weather Service canceled a flash flood warning for Fairfield County.
More than 2 inches of rain has already fallen in southern Fairfield County and more is on the way, according to Meteorologist Ryan Hanrahan.
Widespread flooding has also been reported in Westport, particularly around Bridge Street and Compo Road, Imperial Avenue and Main and Canal streets, where flooding is common, according to police.
Stamford police said Elm Street and South State Street are flooded in the city. Firefighters said at least one car has been stranded in high waters near the Interstate 95 overpass on Elm Street. They're cautioning drivers to avoid East Main Street, which is also prone to flooding.
The New Haven Fire Department tweeted that a car is stuck in flood waters at River and Poplar streets, and that the department has received multiple calls for flooded buildings and streets.
I-95 is flooded near exit 45 in New Haven, and flood waters damaged Union Avenue right outside the train station.
Hard to make out but a car is submerged half way up to wheels at poplar and river streets in #nhv @NBCConnecticut pic.twitter.com/aCS0uCE6Pp — Josh Chapin (@joshchapin1) July 15, 2014
The Fairfield Police Department also took to Twitter to report downed wires on Round Hill Road, which is closed between Papermill and Barlow roads after storms swept through.

Severe thunderstorm watches for southwestern Connecticut expired at 8 p.m. but strong storms are expected to return again tomorow, and a First Alert Weather Day has been declared for Tuesday.

Periods of very heavy rain are possible tonight, and thunderstorms will likely bring vivid and dangerous lightning, torrential rain and damaging winds to the state Tuesday and possibly Wednesday.
Parts of the state could receive up to 5 inches of rain by Wednesday.
Flash flood watches are in effect for Hartford, New Haven, New London, Middlesex, Litchfield and Fairfield counties until late Tuesday night.
Watches issued for Tolland and Windham counties will last through Wednesday afternoon.
We'll see some relief from the storms when drier arrives by Wednesday night.