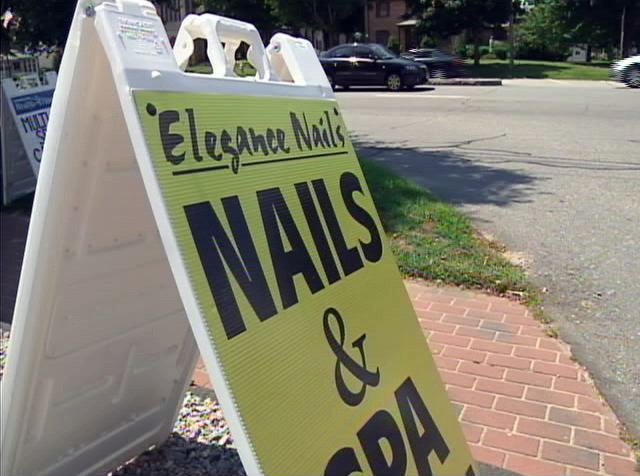 There are some things you know you'll find on Main Street in Old Saybrook, including quiet sidewalks, shops and signs. The signs are everywhere, almost, and the sign policy is putting on man at odds with local officials.
Terry Brown, who owns Stoneware, has a white banner, two flags and a sandwich board.
"Even though I'm on Main Street, I'm a little removed from Main Street, so my customers come in and say, 'How long have you been here?' and I say, 'Two years, seven months, so many days,' and they say 'Oh my God, I never saw you,'" Brown said.
No signs bring in no sales for Brown.
The problem for Brown is that the town's zoning commission has strict laws about signs.
Banners can't hang permanently and sandwich boards are banned.
According to the commission, some sandwich boards are just in the way of people walking or driving, making them a safety hazard. Others, members say, are just plain distasteful.
The commission sent Brown a cease a desist letter, saying he had to remove his signs or face a $2,500 fine.
Brown said this could lead to a small business exodus.
"Old Saybrook will get the reputation where town hall is anti-business," Brown said.
Christina Costa, the commission's enforcement officer, said the letter to Brown came after other letters were ignored.
A stack of letters have been sent to businesses, the Chamber of Commerce and others telling them about the rules.
"We're not looking to stop advertising or prohibit merchants in hard economic times from advertising, it's just advertising correctly and safely and with a permit," she said.
But Brown said he never received those letters and he's not convinced the commission is motivated for the right reasons.
"If I'm not allowed to have banners, I'm not going to have customers. I'm going to close my store so as far as aesthetics, do they want an empty store?" Brown said.
Follow us on Twitter @NBCConnecticut, on Facebook, and sign up for breaking news SMS alerts on your phone by texting "CTBREAKING" to 622669.