Severe thunderstorm warnings have expired for Hartford, Litchfield and Tolland counties, but the NBC Connecticut First Alert weather team continues to keep an eye on First Alert Doppler Radar.
There's enough instability in the atmosphere that will allow the storms that do form to become strong to potentially severe.
Take a look at First Alert Future Radar at 5 p.m. you can see scattered thunderstorms moving from northwest to southeast.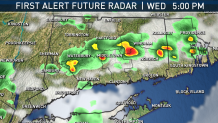 The thunderstorm threat will come to an end after 7 p.m. with lingering showers impacting southeastern Connecticut.
The greatest risk with these storms will be damaging wind gusts. There's a medium risk of damaging wind gusts and a low risk for hail, flooding, and tornadoes.