A tornado watch has been issued for the four western counties of Connecticut -- Hartford, New Haven, Fairfield and Litchfield counties -- until 10 p.m.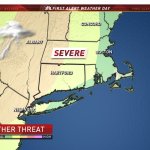 A tornado watch is issued when conditions are favorable for storms that could produce a tornado, while a warning is highest level and means a tornado is imminent or has been spotted.
The strong thunderstorms were in advance of a cold front and flights are affected in Massachusetts, New York and New Jersey.
The severe weather threat is diminishing across Connecticut, though residents should remain on alert through the evening.
Once the front clears after midnight, delightful weather is in store for the holiday weekend.
Saturday will be mostly sunny with temperatures near 80 degrees.
Lots of sunshine will make for a very bright Sunday, with highs in the middle 80s.
The Fourth of July will be warmest, with a blend of clouds and sunshine. Temperatures will be well into the 80s inland, but more like lower 80s at the beaches.
A heat wave is possible at the end of next week, when temperatures will soar to 90 degrees.