A severe thunderstorm watch has been issued by the National Weather Service until 2 a.m.
Periods of rain will increase in coverage and intensity this evening but NBC Connecticut's Brad Field said the state's biggest issue will be wind gusts.
The threat for wind gusts over 50 mph begins this evening and lasts until the cold front slices across the state in the predawn hours tomorrow morning.
Secondary concerns include heavy rain, small hail and lighting in the thunderstorms. Isolated power outages could result from any storms that hit the state.
The Storm Prediction Center has placed the entire state of Connecticut under a marginal risk for severe weather, though a higher-grade slight risk is just off to the west in the Hudson Valley.
Eastern Pennsylvania has an elevated risk, where a tornado or two is possible. A tornado watch has been issued there and points to the south until 11 p.m.
First Alert forecasters concur that the greatest threat for severe weather is in fact to the south and west, but the entire state should remain on guard tonight.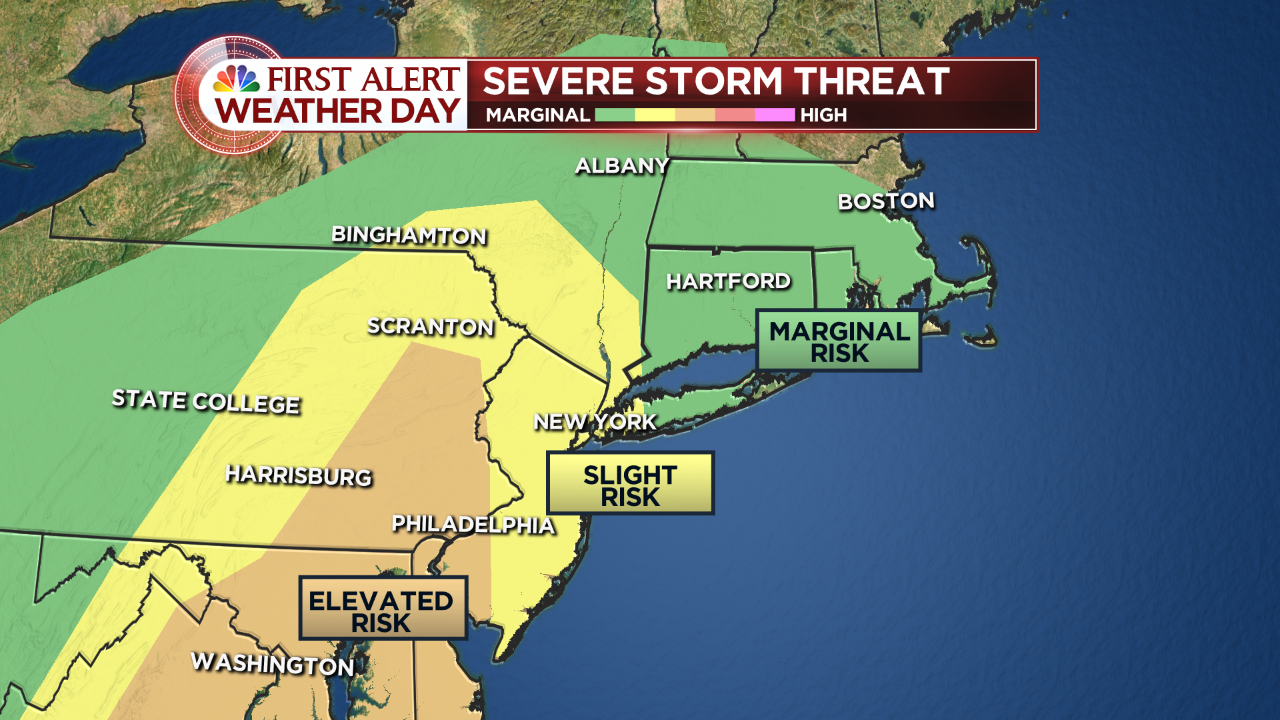 Small hail could accompany the strongest cells but it shouldn't be of the damaging variety.
More than an inch of new rainfall is expected by the time all is said and done early tomorrow morning, before sunrise.
Temperatures will be in the 50s. Much of the day will be dry with peeks of sunshine, except there can be another round of showers in the afternoon.
The weekend looks great.
Friday will feature sunny skies with a breeze and highs near 40.
Saturday should be the pick of the weekend, with lots of sunshine and highs near 40 again.
The dry weather continues Sunday, with temperatures soaring to near 50!
The next chance for precipitation comes in the form of rain showers on Monday, with temperatures still near 50.
The forecast for the end of February and the start of March certainly looks like spring.