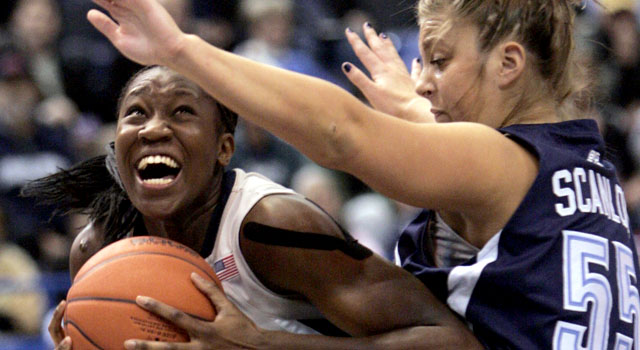 Tina Charles will be swapping the basketball court in Storrs for one in Uncasville.
The Connecticut Sun used the first No. 1 pick in franchise history to select the UConn star during the 2010 WNBA Draft on Thursday afternoon.
This has been some week for Charles, who helped her undefeated Huskies win a national title and became the 2010 Naismith Trophy recipient. She is also the Associated Press and USBWA Player of the Year.
If history is any indication of the future, the Sun will be the team to beat.
Charles is the all-time leading scorer and rebounder in UConn women's program history.
"We felt, if we had stayed (with the number two pick), surprising to most people, I don't know if we would have taken a post player," Coach Mike Thibault said, explaining the importance of the trade that allowed the Sun to obtain the first pick in the draft. "Maybe we would have, but there would have been some other players to consider."
He said Tina was a step above everybody else.
Charles will be sharing the court with fellow UConn alum Renee Montgomery.
Montgomery, who was traded to the Connecticut Sun along with the No. 1 pick in the 2010 draft in exchange for All Star point guard Lindsay Whalen and the No. 2 pick.
"We are very excited, not just to have the No. 1 pick, but to have that pick be Tina Charles," Connecticut Sun Vice President and General Manager Chris Sienko said. "It just sweetens the deal because our fans will instantly connect with her, and continue to see Tina grow and mature as a professional athlete here in Connecticut."