High pressure is building into the region and that means the weather will continue to improve going forward.
Temperatures will peak in the middle-60s today with variable cloudiness. The clouds are actually make up the western periphery of Joaquin, which is several hundred miles out over the Atlantic.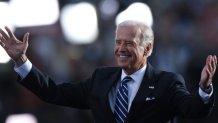 More sunshine is expected tomorrow, when skies will be mostly sunny. High temperatures will be near 70-degrees!
There's somewhat of a swap in high pressure centers on Wednesday, so while there will be full sunshine, a bit of a breeze is expected. Temperatures will rise to around 70-degrees once again.
Lots of sunshine sticks around for Thursday, though with the next weather-maker on the approach, some high clouds are possible. Temperatures will peak in the upper-70s.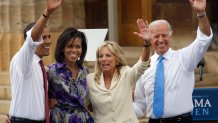 The next batch of rain arrives Friday. It's actually a clipper system, one that moves fairly quickly from the northwest to the southeast. A period of rain is possible Friday afternoon as this system moves through. It won't be much but the rain will certainly be noticed.
Early indications for Columbus Day weekend show dry weather, as another area of high pressure moves over New England.