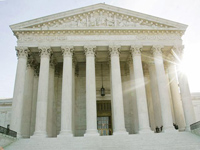 Electric utilities companies will have a chance to appeal a case about climate change that Connecticut and other states brought against them.
Eight states and New York City and others accused the power companies of being among the largest emitters of carbon dioxide in the world. They argues that this is the chief causes of global warming and asked a federal judge to order power companies to cut emissions in plants in 20 states.
On Monday, the U.S. Supreme Court agreed to consider ending the federal lawsuit and it will hear American Electric Power Co. v. Connecticut, 10-174.
A federal judge initially threw out the case, but the 2nd U.S. Circuit Court of Appeals in New York said it could continue.
The American Electric Power Co. and the other utilities do not want courts getting involved in the issue. The companies argue that only the Environmental Protection Agency can set emissions standards.
The case will be argued in the spring.
Justice Sonia Sotomayor, who was on the 2nd Circuit panel that heard the case, is not taking part in the Supreme Court's consideration of the issue.
The states in the lawsuit are: Connecticut, California, Iowa, New Jersey, New York, Rhode Island, Vermont and Wisconsin.
The Open Space Institute, the Open Space Conservancy and the Audubon Society of New Hampshire also are plaintiffs.
Copyright AP - Associated Press