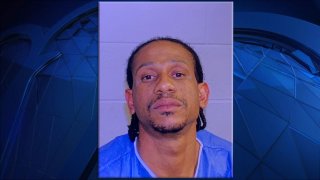 East Lyme police have arrested a man accused of attacking officers while trying to escape what started as a traffic stop Wednesday.
Dwayne Denton, 37, faces multiple charges, including assault on a police officer, after an incident that began around 3 p.m. Wednesday afternoon.
Police said officers pulled Denton Main Street near Pennsylvania Avenue and he gave them a fake Florida driver's license. According to police, Denton refused to get out of the car and tried to drive off.
Two officers who were trying to physically stop Denton from driving off were knocked over and a third was stuck in the vehicle, still struggling with the suspect, as Denton drove. Police said Denton crashed into a parked vehicle and continued to resist the officers, at one point grabbing a taser.
Three officers were injured during the scuffle.
Police used Denton's fingerprints to identify him and learned he was wanted on an extraditable warrant out of New York for violation of parole involving a firearm charge.
Denton was ultimately charged with fugitive from justice, criminal impersonation, three counts of assault on a police officer, interfering with an officer, possession of marijuana, and passing on the right.

He was held on a $150,000 bond and is scheduled to appear in court Thursday.