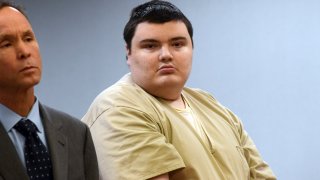 A former University of Connecticut student who was suspected of killing two men and kidnapping a woman in 2020 and leading police on a multi-state search has pleaded guilty to additional charges.
Court officials said 26-year-old Peter Manfredonia pleaded guilty to first-degree murder and first-degree kidnapping.
Manfredonia will be sentenced in April. His attorney said he will be sentenced to 55 years in prison after reaching a deal.
Manfredonia previously pleaded guilty to a murder charge and, first-degree assault and home invasion charges as a part of the plea deal.
Manfredonia is accused of killing 62-year-old Ted DeMers in Willington on May 22, 2020, then killing a childhood friend, Nicholas Eisele, in Derby two days later.
Manfredonia was also accused of kidnapping Eisele's girlfriend and forcing her to drive him to New Jersey.
Eisele and Manfredonia grew up together in Newtown.
Eisele's girlfriend told police she woke up and heard Eisele saying "relax" and "calm down" loudly from the living room. When she asked if everything was OK, Eisele said Manfredonia was in the apartment and she should call 911, according to the warrant.
As the woman grabbed her cell phone to dial 911, she told police that Manfredonia and Eisele came through the bedroom door, Manfredonia grabbed the cellphone from her hand and she ran into the living room and then heard shots. She screamed, and Manfredonia told her to "shut up," an arrest warrant states.
Manfredonia took between $5,000 and $7,000 that was in the apartment and kidnapped Eisele's girlfriend, according to the warrant.
He made her drive on back roads through Newtown, and they eventually ended up in Columbia, New Jersey, where they pulled into a truck stop.
Manfredonia held the woman captive at gunpoint for more than seven hours, according to officials.
Manfredonia asked some people there to help him secure an Uber to Pennsylvania. Once he did that, he left Eisele's girlfriend in her car, and she told someone at the truck stop that she had been kidnapped and that Manfredonia had killed someone in Connecticut, the warrant stated.
Manfredonia was captured in Hagerstown, Maryland, after a multi-state manhunt five days after the initial attack.
He was returned to Connecticut on June 12, 2020 and has been in police custody ever since.
On Feb. 8, Manfredonia pleaded guilty to charges connected to the fatal sword attack of DeMers, the wounding of an elderly man in Willington and a home invasion in Willington, where Manfredonia held the homeowner hostage for 24 hours before leaving with the man''s truck and guns and going to Eisele's home, according to the Office of the State's Attorney for the judicial district of Ansonia-Milford.
The charges Manfredonia pleaded guilty to on Thursday were connected to the fatal shooting of Eisele and the kidnapping of his girlfriend, according to the Office of the State's Attorney.
Sentencing is expected to happen on April 19 and April 20 and the two prison sentences are to run concurrently.