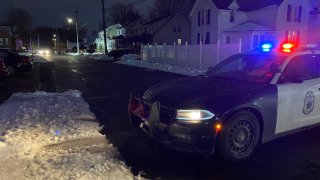 A 19-year-old man is suspected in the shooting death of a 17-year-old in East Hartford last year and has been arrested.
Police said detectives identified the 19-year-old suspect after determining a 15-year-old who gave a confession was not the actual shooter.
The shooting that killed the 17-year-old happened on Jan. 9, 2022 on Westbrook Street.
Police said several people in a white Toyota Avalon that was fleeing the area were involved and they were able to obtain footage of the car through the town's street camera system.
The investigation led police to arrest a 15-year-old who police said gave investigators a confession, but detective work led them to believe the 15-year-old was not the actual shooter.
They obtained an arrest warrant for a 19-year-old Hartford man who police said fled the state immediately after the shooting but had recently returned.
He was taken into custody Monday and charged with manslaughter in the first degree with a firearm, hindering prosecution in the first degree, and tampering with evidence and weapons in a motor vehicle.
The suspect is being held on a $750,000 court-set bond.