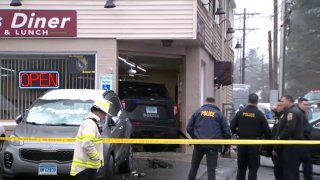 The man accused of crashing a stolen police SUV into a diner in Bristol in January is facing new charges.
Jimmie Shoemaker-Gonzalez, 39, was originally arrested by Bristol police after he crashed the SUV into Palma's Diner on Stafford Avenue on January 12.
The incident began in Farmington after police say Shoemaker-Gonzalez crashed a stolen Dodge Durango along Route 6 and then attempted to steal two vehicles from a nearby apartment complex at knifepoint, according to police.
He eventually ended up jumping into a police SUV and drove off before crashing it into the diner in Bristol.
The new charges filed against Shoemaker-Gonzalez are related to the incidents in Farmington. They include criminal attempt of first-degree assault, first-degree robbery, first-degree reckless endangerment, second-degree threatening, second-degree assault with a weapon, and second-degree criminal mischief.
He has been held on bond since his arrest by Bristol police in January.