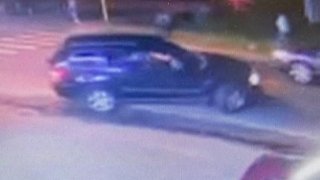 A woman suspected in a hit-and-run early Saturday morning that left a woman seriously injured in Waterbury has turned herself in.
Stacy Edwards, 35, is accused of hitting a 31-year-old woman with her vehicle at Frost Road and Homestead Avenue around 2:20 a.m. Saturday, May 22, then leaving the scene, according to police.
The victim, identified as Danielle Sanangelo, was taken to the hospital with life-threatening injuries.
Police had been searching for Edwards and she turned herself in at 5:30 a.m. Thursday.
According to court documents, the two women were involved in a fight before the crash. Police said surveillance video shows Sanangelo walked away. Edwards got into her car, a black Jeep Cherokee, then crossed over two traffic lanes and hit Sanangelo with the car.
Sanangelo's family spoke out Thursday.
"It felt like my heart beat was in my feet," Nancy Sanangelo, the victim's mother, said.
In court Thursday, a judge called the incident a serious and heinous act. Sanangelo suffered a broken neck and broken femur.
"I'm hurt, I'm angry, I want the girl punished, you know I feel bad for her family but what she did was horrible," the victim's father Raymond Sanangelo told NBC Connecticut.
The family says their daughter has had three major surgeries and her doctors expect her to recover in time.
Edwards has been charged with breach of peace in the second degree, assault in the third degree, criminal attempt at manslaughter in the first degree, reckless driving and evading responsibility- serious physical injury.
Edwards is being held on $250,000 bond and is next scheduled to appear in court on June 9.