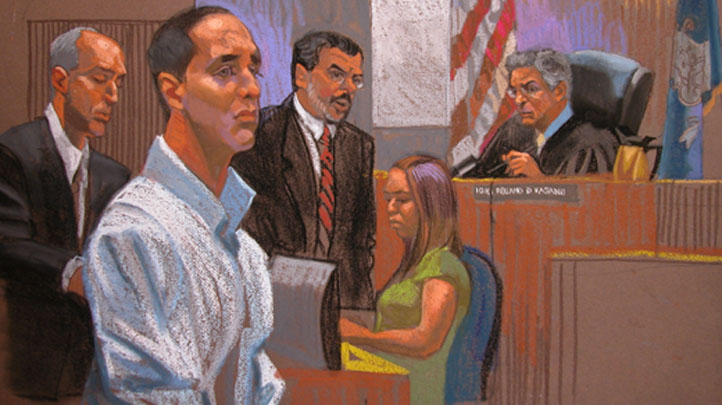 Raymond Clark III, the man charged in the murder of Yale graduate student Annie Le, pleaded guilty to murder and attempted sexual assault.
Clark entered the plea on Thursday, under an agreement that calls for a 44-year-sentence.
His plea on the attempted sexual assault charge was under Connecticut's Alford doctrine, in which the defendant in a criminal case agrees only that the state has enough evidence against him or her to get a conviction.
The sex charge and related DNA evidence offered the first official revelation of a potential motive in the case.
"We believed all along that was the motivation," said Joe Tacopina, attorney for the Le's parents.
Le, a 24-year-old Placerville, California, vanished on Sept. 8, 2009, from the Yale medical school research building where she and Clark worked.
Clark was responsible for caring for lab mice, cleaning floors and cages and one official told the Associated Press that Clark's Yale co-workers told police he was a "control freak," fastidious and territorial about the mice whose cages he cleaned, even with scientists and doctoral students at the Ivy League school.
Le's body was found on Sept. 13, the Sunday she was to marry Jonathan Widawsky, a Columbia University student., He body was upside down stuffed behind a research lab wall. Clark was accused of strangling Le.
Prosecutor David Strollo said Le had a broken collar bone and jaw, injuries suffered while she was alive, and that her underwear had been disarranged. He noted that the victim was 4 feet nine inches and 89 pounds, while Clark was 5 feet 9 inches and 190 pounds.
He also cited DNA evidence in the case, including Clark's semen and a green-ink pen under Le's body that had her blood and Clark's DNA. Police have said Clark signed into the secure building with a green pen the day Le disappeared. DNA from Le and Clark also was on a bloody sock found hidden in a ceiling.
Clark's father, Ray Clark II, spoke outside the courthouse.
"Ray has wanted to reach out and express his remorse of having caused this horrible tragedy. However, Ray and my family have followed the advice of his attorneys and not made any comments while the case was pending," Ray Clark II said. "As a parent, it is very hard to think that your child could commit such a horrible crime."
Le's family was not in court. The family is satisfied with the deal, but Le's mother thought the hearing would be too painful.
"Every day has been a tough day," Tacopina said. "It's a tough day because there's been a public acknowledgement that somebody murdered and attempted to sexually assault this poor young sweet girl for no reason."
The Le family plans to attend the sentencing, which is scheduled for May 20.
Clark had been charged with murder and felony murder, each carrying a possible sentence of 25 to 60 years.
Copyright AP - Associated Press