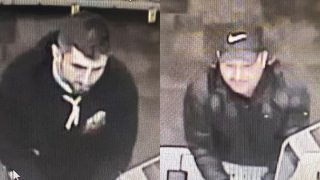 Waterford police are looking for two men who they say stole more than $3,000 from a CVS using sleight of hand techniques.
It happened Friday at the CVS on Boston Post Road.
Police say the pair bought gift cards and then used sleight of hand techniques to distract and confuse the cashier.
Investigators say the suspects are skilled in these techniques and often travel a wide area carrying out these types of thefts.
The men carried out a similar theft in a neighboring town earlier on Friday, according to police. They did not say which town.
Police released surveillance images of the two men. They are asking anyone who may recognize them to call Officer Swarr at (860) 442-9451 Ext. 2251, or by email at nswarr@waterfordct.org.