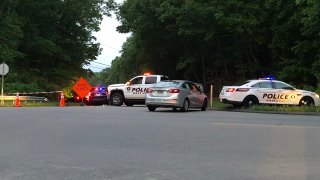 The man found dead on the side of the road in East Lyme on Tuesday night was the victim of a homicide, according to police.
Officers responded to West Society Road just after 10:30 p.m. on Tuesday after a passer-by spotted a body near the exit 73 off-ramp from Interstate 95.
The victim was identified as 23-year-old Jonathan Dawson, of Bridgeport. He died of a gunshot wound, according to the Office of the Chief Medical Examiner.
Dawson's body was found in a dirt pull-off, very close to the off-ramp, police said.
Connecticut State Police Major Crimes and the New London State's Attorney's Office are assisting with the investigation.