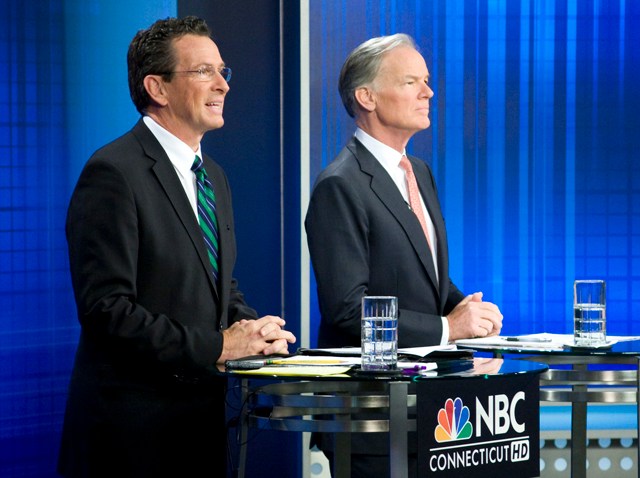 With a week left before the election, the candidates in the race for Governor talked jobs, capitol punishment, transportation, and taxes.
In their last televised debate on NBC Connecticut, Republican Tom Foley defended his plan to cut $2 billion in spending in the next fiscal year without raising taxes. "Reducing government spending doesn't mean putting people out on the street. We do need to pair down the size of our state government and we can do that through attrition," said Foley.
Malloy responded by saying his competitor's plan won't work. "I think you're going to increase everybody's property taxes. We need to create efficiencies. We need to combine all of our state agencies by one third. We need to push down decision making to the level of the service provider," Malloy replied.
On the subject of transportation, both agreed something needs to be done, especially along I-95. "We need to redesign every entrance and exit. We also need to invest in ports so that we can get more freight off the highway," said Malloy. Foley responded by saying, "It's not only an inconvenience, it costs us jobs. Business owners are worried about their goods getting to their places."
Each candidate had the opportunity to ask each other a question. Foley grilled Malloy, asking him how much he's going to raise taxes. Malloy responded, "Tom, I've said it many times to you and in your presence. We're not raising taxes, that's the last thing we'll do. If we do it's to protect the safety net of Connecticut. That's why I've called for a plan to break down departments in the state by one third."
Malloy asked Foley about character and integrity and again brought up his arrest record. "Truthfulness is an important factor. These issues, Dan, were taken care of in the primary. I explained the reason by my answers. So why you're bringing this up now is a little confusing. You're still talking about the Bibb Company. The closing happened 2 years after I left the company," responded Foley.
A voter email question focused on the negative attack ads and the number of them on television this election. Foley first answered the question saying, "It's not just this race, it's in a lot of races. I offered my opponent, at the beginning of this campaign, to agree to no negative ads. He's now running negative ads paid for by the state of Connecticut." Malloy rejected those claims. "When I started this campaign I started with a 60 second ads. That was responded by Tom's first ad that was negative and directed at me. Tom's already put $10 million of his own money into this campaign."
Before the last televised debate, the latest Quinnipiac poll revealed Malloy maintaining a slight lead over Foley. It shows Malloy with 48 percent to Foley's 43 percent.