High temperatures to start the week didn't make it out of the 60s. Temperatures will be quite warmer today.
Temperatures along the shoreline will reach the mid to upper 70s. Temperatures will be even warmer for inland areas of the state climbing into the low 80s.
Take a look at forecasted high temperatures throughout the state,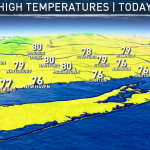 The weather becomes a bit more interesting by the end of the week and early weekend. We're monitoring a low pressure system that could come close enough to Connecticut to provide heavy rain and scattered thunderstorms.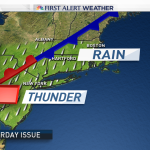 Stay with the NBC Connecticut First Alert Weather Team for the latest information on the Friday/Saturday storm threat.