The First Alert Exclusive 10 Day Forecast features high temperatures in the 80s and 90s with a chance for thunderstorms this week.
The average high temperature in the Hartford area for this time of year is 85 degrees.
Temperatures are forecasted to reach the low 90s by Wednesday and Thursday.
INLAND: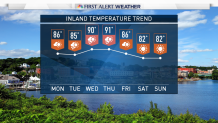 SHORELINE: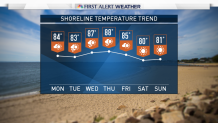 As temperatures increase the humidity will also climb. Dew point values are expected to reach the low 70s by Wednesday which is considered oppressive humidity.
Take a look at the dew point trend,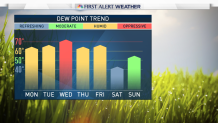 The increased heat and humidity will also lead to a scattered thunderstorm threat Tuesday, Wednesday, and Thursday. Scattered storms are expected during the afternoon hours.