NBC Connecticut Meteorologists are forecasting temperatures to climb to near 90 degrees tomorrow.
High temperatures on Monday reached the upper 80s for much of the state.
Take a look at forecasted high temperatures for tomorrow. The warmest location will be the Hartford area where we're forecasting a high of 89 degrees. Temperatures will be cooler along the shoreline and especially in southern New London county with a wind off of the water.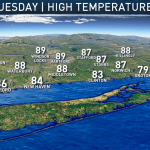 The warm weather will continue again on Wednesday with many inland areas reaching 90 degrees.
Comfortable air will be in place for Tuesday but expect the humidity to increase by Wednesday with oppressive humidity moving in for Friday.