Temperatures to finish out the work week will only rise into the low to middle 30s for Friday, but milder air will move in just in time for the weekend.
A wind shift Friday night into Saturday will bring in milder air from our south.
Take a look at projected high temperatures for Saturday afternoon. Most of the state is into the middle to upper 40s with a few communities reaching 50 degrees.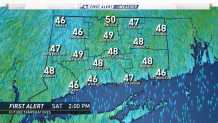 We are tracking a few scattered showers for late Saturday night and early Sunday morning. Temperatures on Sunday will once again rise into the middle 40s throughout the state.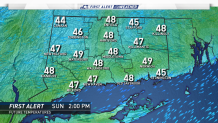 Following the mild weekend we're keeping our eyes on a system for the Monday/Tuesday timeframe that could bring a wintry mix or accumulating snow to the state.