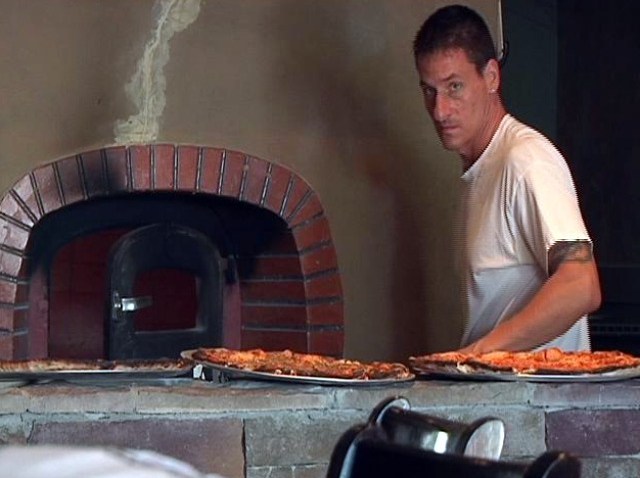 Dan Mulroney was hard at work on Tuesday afternoon, unloading wood for the Brick Pizza Oven restaurant he plans to open soon on Fairfield Avenue in Bridgeport, when he felt something unexpected.
"I had a handful of wood and I turned this way and felt someone poke my back with a gun," Mulroney said. "So I dropped my wood and he said, "Give me your watch and give me your wallet."
But Mulroney wasn't having it.
"I immediately attacked him, punching him in the face," Mulroney said, as he reenacted the struggle that ensued in the back parking lot behind his building.
"Then another guy approached, so I pushed the first guy out of the way and attacked him and then I kept punching them both," Mulroney said.
That was enough for one of the robbers, who quickly took off, according to Mulroney. The second man followed, but Mulroney wasn't done with them yet.
"I went over and grabbed this pizza brick and threw it as hard as I could," said Mulroney.
The heavy concrete pizza brick hit one of the men in the back. He buckled, according to Mulroney, but got back up and both men ran off through a barbed wire fence.
"The guy had a handgun still in his hand," said Mulroney. "I thought for a second he was going to turn and shoot, but I didn't want to pursue anymore, so I just called the police."
The violent daylight attempted robbery stunned the owners of nearby businesses, including Varsity Barber, the shop next door to Brick Oven Pizza.
"I was throwing my garbage out there earlier that day," said Varsity Barber Owner Tim Gagne. "That could have easily happened to me or someone from upstairs."
Gagne and others in the neighborhood are applauding Mulroney's bold move with the pizza brick.
"I wasn't afraid. I was just defending myself," said Mulroney. "I would do it again if I had to."
Mulroney wants to put the whole incident behind him and focus on the opening of his restaurant on June 2.